Regular Fire Sprinkler Maintenance
is Crucial for Fire Safety
When the unthinkable happens, you need to know that your fire sprinkler system is in excellent working order throughout your business. If even a single section fails due to breakage or age damage, it can make it difficult or impossible for people to get to safety -- and can dramatically increase the cost of damages to your building. When you practice proactive fire sprinkler maintenance, you can be confident that your employees, customers and physical assets are much protected in the event of a devastating fire.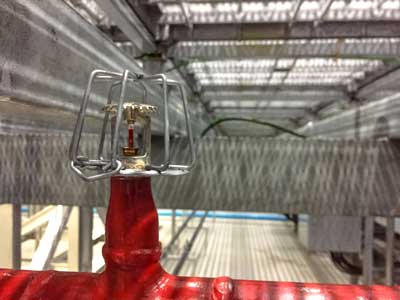 Regular Fire Sprinkler Maintenance
Protects Your Human Assets
While many sprinklers are designed to completely distinguish a fire before it gets out of control, they also play an important role in protecting your human assets. A sprinkler system that receives adequate and regular maintenance may be the life-saving tool that employees and customers need to gain the few precious seconds needed to leave a room before a conflagration takes over. Beating back the flames completely may not be possible, but fire sprinklers and other protective aids can create a pathway through the fire to safety.
Fire Sprinkler Repairs Reduce
Building Damage
When your fire sprinklers are working effectively, these systems can help control a blaze from spreading. However, when there are portions of your system that fail, fires can quickly rage out of control. At AAA Fire Protection, our regular maintenance and inspection schedule is designed around the NFPA 25 standards for routine assessments of your fire protection systems. Whether you decide to work upcoming maintenance tasks into your regular review schedule or complete them all at once, we can work with you to ensure that your fire protection repairs are completed in a timely manner.
Parts of your fire sprinkler system that may require service include:
Standpipe systems
Deluge systems and controls
Backflow preventers
Wet, Dry, Foam or Special Hazard Systems
Water Spray Systems
Preaction Systems and Control
System Controls
Our qualified technicians will provide an in-depth review of your fire protection system and make any recommendations for immediate remediation or future work that should be considered.
Emergency Maintenance
When You Need It
Emergency maintenance shouldn't have to wait for normal business hours -- you need a response that will return your business to being fully protected pronto. At AAA Fire Protection, you can trust that our teams are ready to support you 24 hours a day with our emergency service line. We have been serving the Northern California area since 1974, and have protected thousands of businesses and lives from disaster due to fire. Regular fire sprinkler testing can spot problems before they become larger, and allow you to make minor repairs instead of major replacements to your systems.
When you need fire system maintenance that you can trust, contact the professionals at AAA Fire Protection today at 855-256-0020. Our technicians are certified in working with computer rooms, laboratories, museums, data or document storage areas, art galleries and more. We specialize in restaurants, office buildings, department stores, hospitals and warehouses -- providing more than 30 years of knowledge of protecting various businesses in the Northern California area.