COMMITTED TO SAFETY
There can never be shortcuts when it comes to fire protection for your Berkeley commercial kitchen or industrial facility. We never compromise or sell inferior quality equipment or services. Berkeley customers rely on us. They know that AAA Fire Protection Services offers a grease exhaust cleaning service that is consistently rated the best in the business. In everything we do, we offer "Green," environmentally safe solutions and practices!
AAA Fire Protection Services sells and installs the best fire protection and fire suppression equipment, sprinkler systems and portable fire extinguishers and cabinets. Our technicians are always learning and improving. We are passionate about what we do!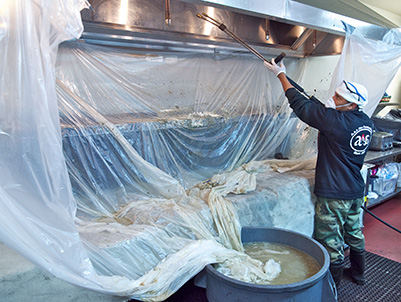 One of the most dangerous elements in any foodservice establishment …
QUALITY PRODUCTS & HIGHEST ETHICS
Our business was established back in 1974. We have serviced thousands of commercial clients with the best products and the most trustworthy services in the field of fire protection and fire suppression. As a family-owned and run business with deep roots in the community, we have the utmost dedication to the well-being of our Berkeley customers and their employees.
No matter your business, the commitment of AAA Fire Protection Services is to ensure the safety of you, your staff and facility. Contact us for a free quote or to arrange a service call.
TESTIMONIALS
I've been using AAA fire protection services for a couple years now for my restaurant. They do a steam cleaning of my kitchen hood and service my fire extinguishers. They are always very professional and their crew is always very consistent and on time. I have used lower costs cleaners prior but I find AAA more reliable and consistent. I would recommend their services.
Alvin W.
We have our building fire extinguishers serviced by AAA Fire. They are prompt and and send us a reminder when our extinguishers need to be inspected and serviced. I like not having to worry about our extinguishers during the fire department inspections.
Luke W.