SAFETY IS OUR MISSION
AAA Fire Protection Services serves Tracy, CA with the best in fire suppression products and services for commercial kitchens, restaurants, caterers and industrial clients. Our customers count on us because they understand we are honest and ethical and we sell and install the best. Our specialties include commercial kitchen and industrial fire protection and fire suppression equipment, sprinkler design and installation, portable fire extinguishers and cabinets and more!
Tracy customers rate AAA Fire Protection Services as having superior grease exhaust cleaning services and our grease filter exchange is always professional and dependable and reliable. When it comes to peace of mind, there can be no concession. Your safety is always our highest priority.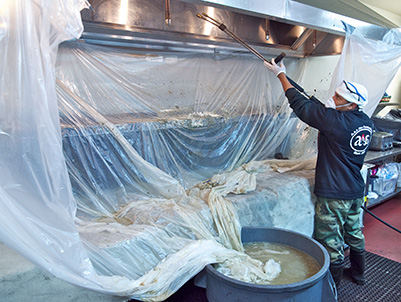 One of the most dangerous elements in any foodservice establishment …
WELL ESTABLISHED AND LOCAL!
AAA Fire Protection Services is family run business, established more than 35 years ago and local! We have serviced thousands of Tracy and vicinity customers for their commercial kitchen, restaurant and industrial fire protection needs. We honestly care and our mission is always your safety.
Tracy, please consider us first when you need fire protection products and services, call us at: (800) 543-5556
TESTIMONIALS
I've been using AAA fire protection services for a couple years now for my restaurant. They do a steam cleaning of my kitchen hood and service my fire extinguishers. They are always very professional and their crew is always very consistent and on time. I have used lower costs cleaners prior but I find AAA more reliable and consistent. I would recommend their services.
Alvin W.
We have our building fire extinguishers serviced by AAA Fire. They are prompt and and send us a reminder when our extinguishers need to be inspected and serviced. I like not having to worry about our extinguishers during the fire department inspections.
Luke W.