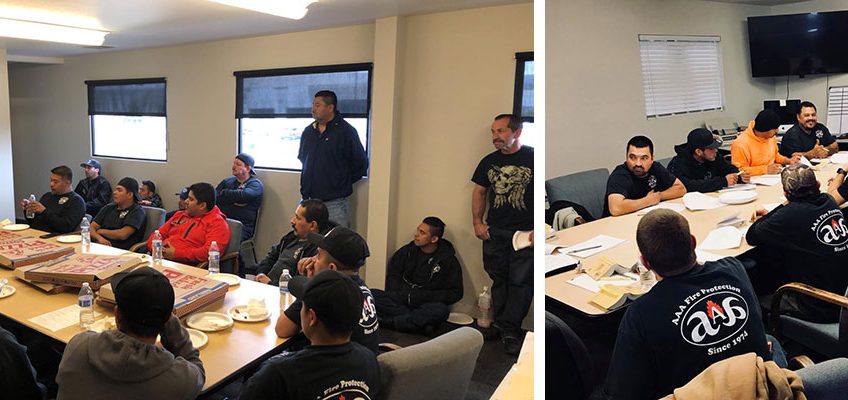 The Passionate Team Behind AAA Fire Protection That Keeps Your Business Safe
Our customers will tell you, we are intensely passionate about staying up-to-date on the latest technology when it comes to fire protection. Whether that's sprinklers or kitchen grease filters — our first commitment is to your safety. We've been focused on providing the best, most cost-effective and proactive fire protection to the Northern California area since 1974, and our customers see how seriously we take this responsibility on a daily basis.
Here's a snapshot of what our customers have to say:
Clay S.: I did not realize how deficient / delinquent my last fire service was until I switched over to AAA. Totally professional and very thorough, I feel totally safe now!
John W.: Alberto and Daniel did a great job servicing my Ansul system. Not just on time but worked quickly. The pointed out some of the things the previous company did wrong the last time they did the work. Will definitely have them back.
While these are only two of the many glowing reviews, you'll see a trend beginning to form. Everyone at AAA Fire Protection works hard every day to proactively make recommendations that will add to the safety and security of your physical business assets, team members and customers.
Trusted Peace of Mind
There's nothing quite like experiencing a large fire — the devastation and damage from even a small fire can be widespread and far-reaching. Our technicians have the years of experience that they need to quickly see areas in your fire protection that may be lacking. Each time, we make a recommendation that not only brings your building up to compliance with state and local codes but also addresses concerns that may be specific to your business so you can rest easy knowing that you're fully protected.
Support When You Need It
Calling a customer service number with some organizations may leave you feeling a bit frustrated, abandoned and — let's face it — unloved. At AAA Fire Protection, service is baked into our DNA, and we are available to support you in case of an emergency 24 hours a day, 7 days a week, 365 days a year. While many companies claim that they offer full support at any time of the day or night, that often means that you can reach an answering service who is not familiar with your particular business needs.
That's not the case with the team at AAA Fire Protection. When you call our emergency support line, we know that you need immediate support from someone who knows the particulars of your business and can provide you with the best possible guidance in minutes. Realistically? That means you'll get a human every time you call — and they can often solve your problem or answer your question while you wait.
From our team to yours: welcome to the AAA Fire Protection family! We are proud to be a leading partner for fire protection for businesses of all sizes in the Northern California community — and beyond. Give us a call today at 855-778-7807 to learn more about our stellar team!